GREETING
WE APPRECIATE EVERY CUSTOMER S CUSTOMER AFFECTION AND ENCOURAGEMENT TO U-TECH INTER ENGINEERING CO.,LTD.
U-Tech Inter Engineering Co.,Ltd. is a technology-centered company in which skilled engineers have constant respect for the love of technology by the president, Mr.Kumthorn  Hutapornprasert,who has been devoted to the technical supply of pneumatic tools, balancers and manipulators for about 18 years.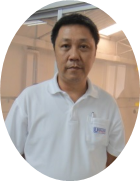 Based on the acquired skills and experiences, the company has supplied production line automation facilities for automobile plants with higher technology, and is accelerating technical level-up of balancers and development of environmental industry getting more interest recently.
Thus, the company was established as the national engineering leader in each business area such as automation facility plants and is constructing the status of  U-Tech Inter through increased opportunities to make inroads into foreign markets in 2001. In particular, U-Tech Inter considers customers' satisfaction first and implements managerial policies having stress on customers in all respects including quality, price and service.
Now we will make the utmost efforts to cope with rapidly changing management environment in the leading way and conduct business on a sound basis through quality innovation, price reduction, and corporate culture innovation in the 21st century. With pride in ourselves, engineers who have been with you in the development of machine industry for the last almost half a century, we will try our best to make this company a business that will contribute to mankind with you and consider environment first.
Thank you very much.               
A staff member all persons present
President / Mr.H.Kumthorn